Pathfinders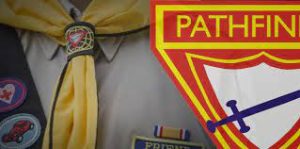 What is Pathfinders?
Pathfinders is a world-wide organization of youth focusing on community service and building a relationship with God. The organization, sponsored by the Seventh-day Adventist Church, welcomes and encourages young people of any religious affiliation to join who promise to abide by the Pathfinder Pledge and Law.
The program is designed for children ages 10-15 and has almost 2 million members across the globe.
Pathfinders encourages a wide range of activities for the purpose of teaching children valuable life skills. From community projects, camping and survival skills, nature and environmental conservation, to vocational skills, healthy living and spiritual development, children have the opportunity to explore their world through hands-on learning.
Joining A Pathfinder Club
Pathfinder clubs are formed and organized through local area churches. Being a member of the local church is not a requirement to join the club. The volunteer leadership, skilled in a variety of abilities and interests, are strong believers in Jesus Christ. They see Pathfinders as an opportunity for growth and learning, and are dedicated and committed to guiding children to become the hands and feet of Jesus.
Learn more about the pathfinders classes

Pathfinder Camporee -

October 12-15, 2023

REFUND POLICY

*NOTE: There are no refunds, however you may transfer your registration to another person.

TALENT SHOW

Would you like to share your talent with the Camporee? Just come on over to the Camporee. You can share your talent individually or with a group. Whether it's singing, playing an instrument, spoken word or poetry you will have a wonderful time sharing your talent in front of an audience. Each day, one act will be chosen to be featured during the evening program on the main stage.  Find Sign up  to participate in Camporee bulletin.

DRIVER RECORD/ QUALIFICATIONS

All Drivers shall be properly licensed and comply with all Federal, state and/or provincial laws for the class of vehicle operated. The recommended minimum age for drivers shall be (21) years. Drivers shall have an acceptable driving record during the previous 3 years.

Pathfinder Camporee Bulletin 2023

Check-in your Club Here:
Do you have any questions?
Contact us!
Contact